Introduction: As a part of our expedition we visited the SMDC School (South Delhi Municipal School) located in Huaskhas for 4 days.
As resident teachers we went to observe and learn about the school, students and their social background with the objective
1.To value the privileges that we have
2.To validate our assumptions of certain places
3.To observe how people live in resettlement communities.
Children in this school come from various re settlement colonies situated in the heart of Delhi City
In a group of 6 resident IIAT Teachers we went to the colony named Indira Camp.
My Understanding of the Community:
We observed the following in Indira Camp Community
Around a population of 5000 people lived in this community. Most people lived in the colony for around 40 years. The roads and the lanes within the camp were narrow with small houses sticking to each other. The people living in some houses had build 2- 3 story houses with very small rooms in them.
Some houses were clean from inside with most modern amenities like Television, Air Cooler and washing machines. Outside the houses there were containers of water filled for using it through the day as they got water once a day.
The roads outside the houses were unkept and the sewage drains were open. Some houses had personal toilets. There were public toilets in the community.
The community had a women welfare cell, Anganwadi Centres, Madarasa (Muslim community learning centre) Primary schools, Banks/ATMs and Doctor's clinics.
One Anganwadi that we visited was run by Government appointed teachers and helpers in their own homes. The basic salary of the helpers is around INR 5000 a month and it was paid on the monthly basis.
Some People in this colony lived on rent. Women worked as house help in the urban localities. Men of the community worked for blue collar jobs.
All the members of the extended family lived together in one house or in very close by houses.
Children in the age group of 5-15 went to close by Government schools. Some male children went to Private schools as well.
Role of education, purpose of education/ schooling and aspirations: The Parents in the community did believe in sending the children to school. We did meet few children who had dropped out of school to manage the family business or take care of younger children when parents were away for work.
Women showed keen interest to be able to read and write and asked some of my classmates if they could arrange for them. For most parents education was about their children being able to find a good Job and earn a better living in their lives. Most parents were keen on their children being able to speak English. They believed that English was a tool for them to empower them selves. Education for them was to enhance and empower their current occupation and earn more than they were earning currently. They all believed in giving education to their children. Some did admit that the quality of education in the Government schools is not very good and many children do not know basic skills to read and write even at the age of 10. They said that in Government schools there are no teachers to teach in the classes. Children attend to take the Mid Day Meal. Few parents sent their children to Public schools and also private tuitions with the limited income they had to ensure that their children with acquire good skills and get a good Job. Crime and Child Abuse details:
Women of the community: Women in the community took the major responsibility of running the house. Working as domestic help of educated class of women they had progressive thinking and they shared a lot of ideas which made us think
Family Planning: In the age group of 18-25 women believed in having not more than 2 children to be able to raise them well. They did admit that there was still a lot of Social and Family pressure for having a male child.
Marriage vs Education: The other idea shared was that a women was happy to educate her daughter rather than saving money to get her married. She believed that education would help her daughter be less dependant on her husband. She could lead her own life in case of a relationship failure. Older generation of the women had seen beating and other atrocities by Men. They wanted the girl children to therefore to be able to earn a living in case of marital problems and otherwise as well.
Insights from the discussion with a family: I interacted with 2 women in the family who lived there for more than 30 years. The mother worked a Nurse in a Hospital and had retired now. The Mother had 3 children and she lived with one Son and Daughter in law. One son lived with his family with 2 daughters on the first floor and the second son lived with his family next to her house. The daughter in law she lived with had 2 daughters and 1 son, the son being youngest. The son was studying in a Government school and the elder daughters worked in office administrator. I had gone asking them about their view on importance of a male child in the family. Though they had 2 daughters and a son their thought about having a male child was not at all important for them. They were very happy with the daughters success.
Organising Bal Mela in SDMC School
I am a Teacher Facilitators and students together organised a Bal mela from the children of the community with the objective to
1.Thank the community for sharing their space and life experiences with us
2.Call the children to the school to play games and have fun.
3.Aid Admissions for the coming academic year and giving the adults of the community to see and communicate with the SMDC school authorities.
Children and adults participated in the event with a lot of excitement.
The programme started with physical activity based games with children and adults. To entertain the parents and children Dance performances were planned.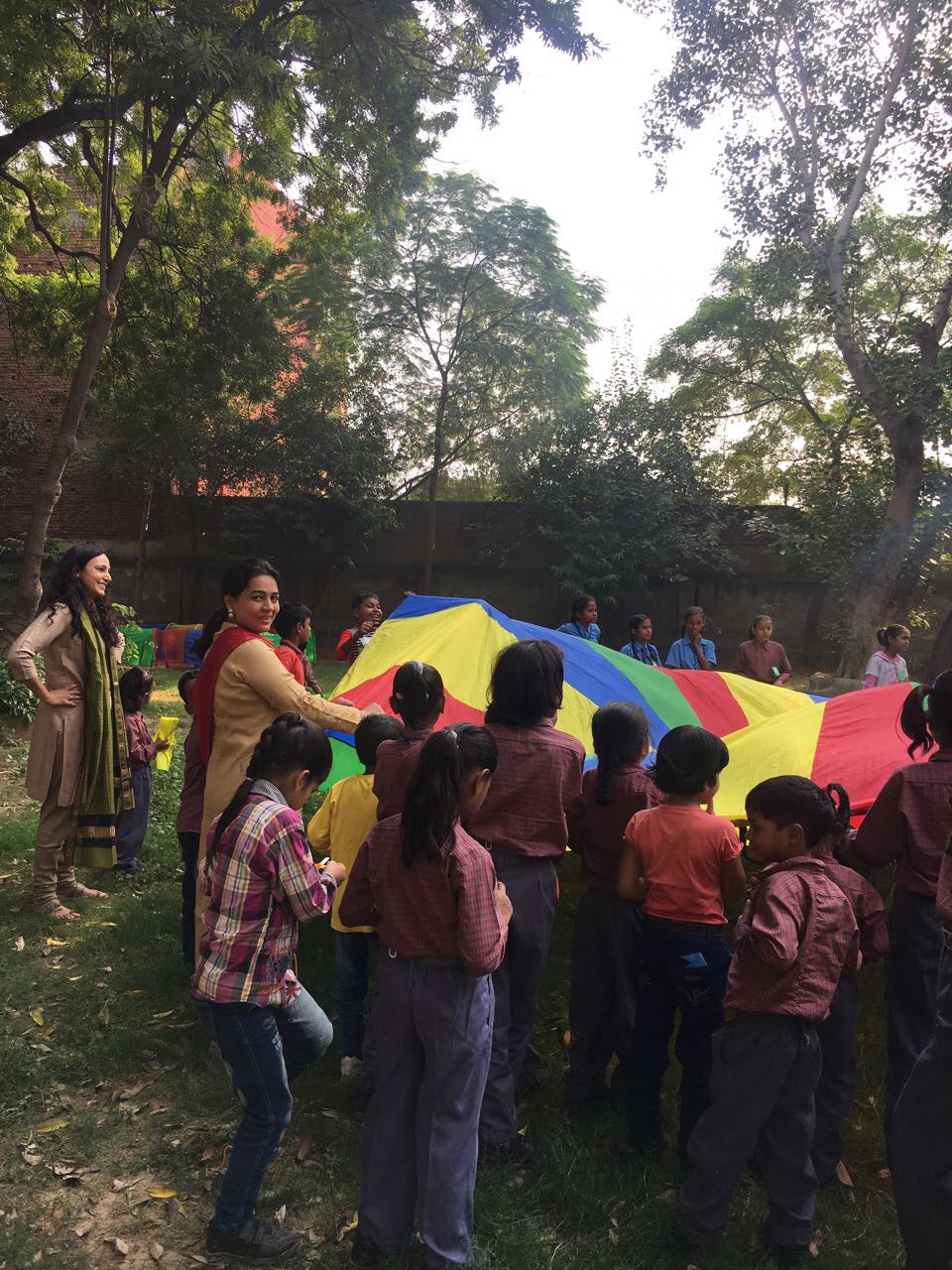 Number of stalls for Creativity including clay Moulding, Creative Activities involving cut and paste, Rangoli, Story Telling, Science experiments, Games and Tattoo painting were arranged by the IIAT residents. The children and adults enjoyed the actives and were served with Lunch.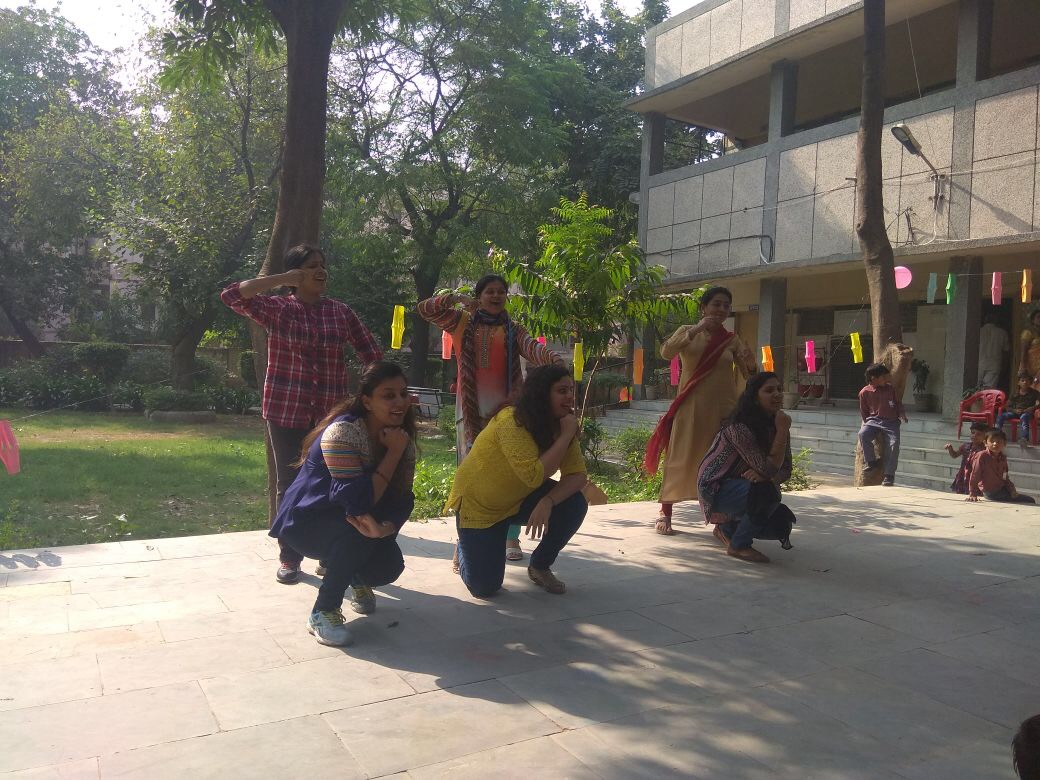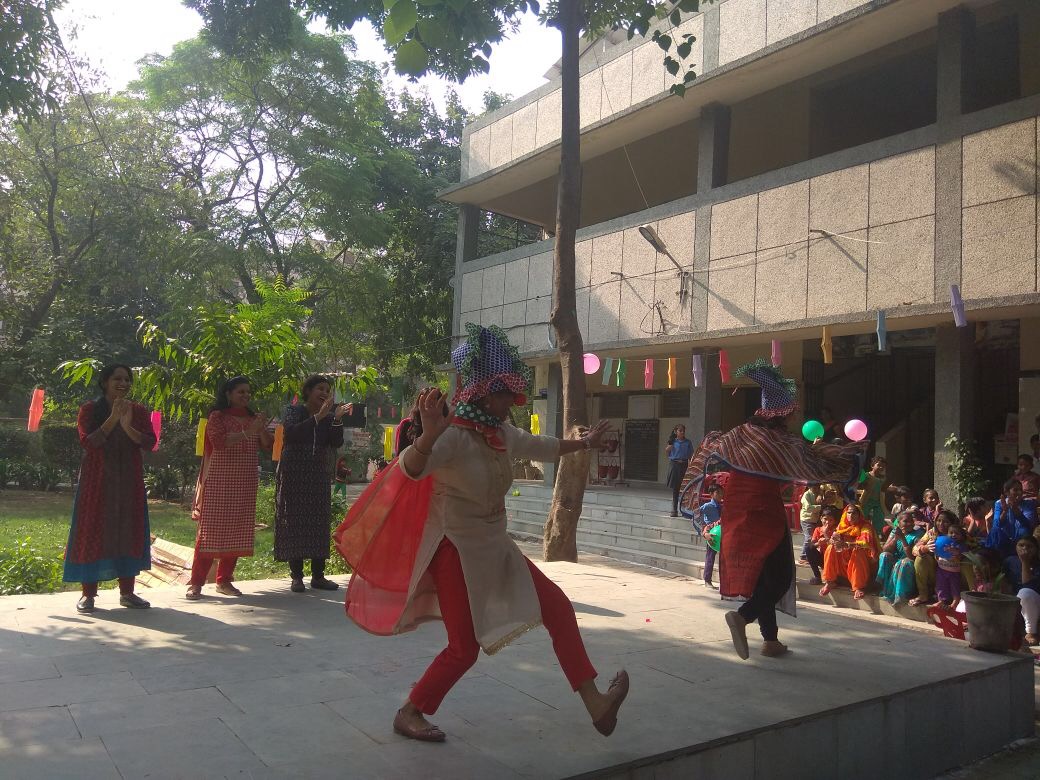 Understanding of social context as an educator: We got an exposure to yet another side of education. This brought us more closer to the reality of the education system in the Government Schools. We got aware of the overall functioning and duties of the teaching community in these schools. The Government schools are struggling to survive because of the lack of Professional Teachers. As the wedges for the teachers in these schools is very less very few teachers continue to work in the schools and the classes function without teachers. Therefore the quality of education is not even touching literacy levels of the children. Few children cannot read even in class 4 or 5. Working towards providing them education that empowers(gives them confidence) them in true sense should be the role of Educators.
Reflection on your privilege/ self: It has brought this thought in my mind that it is truly a privilege be able to be get so many things without even realising that many others don't just get it like I have. After taking a closer look at so many people who help us day in and out, I have realised the value of what I have got. The children coming form the resettlement colonies spend a lot of their energy on earning every bit of food and they struggle for shelter, space and safety.